Alfresco Dining - how to make the most of your outdoor space
As summer beds in and temperatures soar, we're drawn to spend more time in the great outdoors. And with proven links between nature and improved mental wellbeing, the benefits of having a functional outside space are huge.

For many of us, the outdoors provided a lifeline during the pandemic, often allowing us to share a meal or spend time with loved ones in the open air. This trend has continued into the warmer months and with it, the desire to update or renovate garden and outdoor areas.
In times gone by, playing host often left you isolated in the kitchen while guests socialised outdoors. Having a functional external kitchen removes the need to stay inside, enabling simultaneous cooking and social interaction.
Here we share our top style and design tips to help you make the most of the warmer weather and create your own dream outdoor kitchen.
Space to be bold
The popularity of dark tones within kitchen design, particularly blacks and charcoals, has grown over the past few years. Inside, these darker shades can be a little daunting and bold, but in open spaces, blacks and greys can feel less imposing, making them the ideal option for a trend-led, outdoor kitchen.
Porcelain tiles make a stylish and functional base for Al fresco dining or seating areas in the garden. Because they are non-porous they are easy to keep clean, and cracking caused by frost isn't an issue. Be sure to use a weatherproof adhesive or get a professional installer to help you, for a low maintenance and durable finish.
A textured, slip-resistant tile is best such as the Mode tile in Coal with a Bush Hammered finish - especially if kids or those who are infirm are part of the household. This gives a smart and sophisticated finish to outdoor spaces and can be used across floors or walls to wrap around islands or outdoor stoves.

Safety first
Of course the perfect garden sanctuary must prioritise safety as well as beauty and functionality. In spaces where cooking, eating and drinking are taking place, there's always an increased likelihood of spillages. Taking this into consideration at the design stage will give peace of mind that areas are safe, especially for families with young children and elderly relatives.
Using porcelain tiles that are slip resistant in both wet and dry conditions will provide a safe and durable floor surface. Available in classic stone, marble, wood or even patterned finishes, floor tiles are easy to maintain, and dress up or down. With five neutral shades to choose from, the Boundary 2cm tile comes in a Natural+ finish that achieves a PTV rating of 36+, providing the perfect backdrop for your outdoor kitchen space.
Discover the Boundary collection.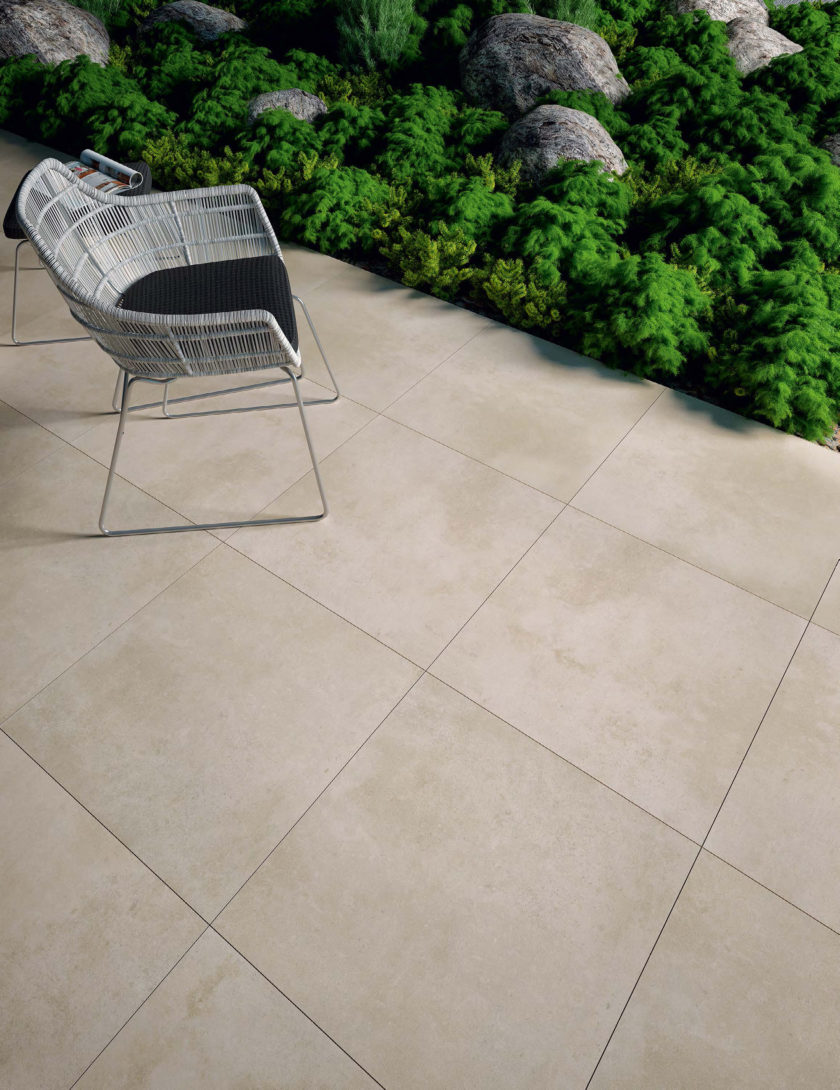 Blurred boundaries
For those on a budget, or with smaller outdoor areas, creating a whole extra kitchen might not be possible. A cheaper, but equally as desirable, alternative is the creation of a garden bar. Seen popping up across the country, bars can be as extravagant or as DIY as you like, the end result always the same - a relaxing space to enjoy refreshments with friends and family.
And to give the illusion of space and luxury, run the same tile from indoor to outdoor areas, for a flowing effect that makes your internal kitchen feel like part of your garden! Featured here, the Atrium range of glazed porcelain floor and wall tiles are available in a selection of concrete designs that create a seamless integration between both spaces.
See more from Atrium.
No matter the size of your garden, when the weather's nice it's a space to be enjoyed. Will you be taking inspiration and creating your very own garden kitchen? Let us know if you do!